Premium in Health Insurance is enhanced as per increase in your age, but, there's something about the no. 45. Insurance Companies dislike this no. Most Insurers, including the ones 'specialized' in Health Insurance resist covering members above 45 years and ask for to undergo medical test. Remember, you need to somewhere take the responsibility of not covering your parents, earlier in their life, and not completely blame Insurance Companies for not covering them, now.
There is no perfect product available for Senior Citizens. All products for senior citizens are restrictive. You need to settle for a product, best affordable to you, even if it has co-pay, exclusions and other restrictions. Again, if your parents have existing ailments, then this becomes more complicated. There are so many Insurance companies, so many health insurance policies with different names and complex features; it becomes a tedious task for a common man to pick a policy and to be confident about it.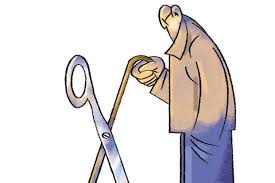 Premium Affordability
Never start by comparing premiums. Health Insurance is long-term purchase and a long-term complex contract coupled with complex services. Comparison of premiums could be largely misleading and could result in a disaster. Comparing Health Insurance requires deeper insights into the overall insurance contract (called policy wordings) over and above price comparison. Either you need to get yourself into comparing the features in detail, or take help of an unbiased health insurance advisor.
However, a person should pay some premium which fits within his expense affordability. Like let's say 2% of yearly income. If a person is earning Rs 6 lacs a year, he might be able to pay an amount that is up-to 2% i.e – Rs 12,000 p.a., which will give him decent cover from today's standard. So you do not decide on the cover, but you decide on the premium which you can afford. Obviously, there is a limit above an income level. A person earning Rs 1 crore might not even need health insurance at all! He has so much of wealth already to take care of it!
Note: The other terms & benefits comparable are Pre and Post Hospitalization, Benefits like No Claim Bonus/Discount, Loading of Premium, 1-2 or 4 year waiting Period for Specified Ailments have not been considered as they do not make a very big impact on the decision to purchase Health Insurance.
Conclusion
Health Insurance industry is witnessing huge changes both in products, price as well as processes, being an insider, it is sensible to have an expert on your side, who updates you on changes, their impact on your coverage and suggest change in course, in case necessary. Insurance Companies will always have their own vested interests. Have someone on your side before picking up a health insurance policy.
1940 Total Views
5 Views Today
The following two tabs change content below.
Suresh K Narula is founder and Principal Financial Planner at Prudent Financial Planners. He has earned the professional CERITIFIED FINANCIAL PLANNER and got registered with SEBI as Investment Advisor. He writes on personal and
financial planning
articles and got published in Dainik Bhaskar, Business Bhaskar and The Financial Planner's Guild, India. He is also a member of Financial Planner's Guild India ( An association of practicing SEBI registered Investment advisers) to create awareness about Financial Planning in general public, promote professional excellence and ensure high quality practice standards. Suresh received his an M.com from Himachal Pardesh University and an MFC from Punjab University, Chandigarh. He can be reached at info@prudentfp.in
Latest posts by Suresh Kumar Narula (see all)
Google+
Comments