Since you are a salaried person, then in all probabilities you must be having your employer's health insurance plan which must be covering you, your spouse, children and parents or some of them. Is Rs. 5 lakhs cover enough or it should be Rs. 10 lakhs?, will it help you in retirement,  do you know that every group health insurance carries co-payment clause, caps and  limited cover for your parents, your company may exclude your parents from the health cover and you might not get health cover with your next employer. These are the most common questions which should pop up when you start thinking about group health insurance.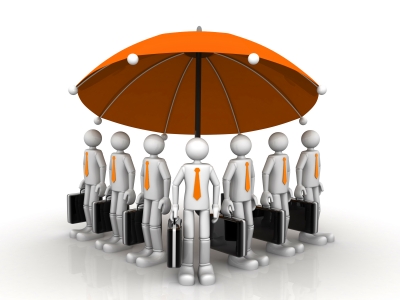 But a lot of people do not want to take a separate health insurance plan from health insurance companies and just want to continue their employer's group health insurance cover as it looks most affordable Health Insurance to them. It must be noted that affordability does not mean that you are paying lower premium and acquiring all benefits and adequate sum assured. By paying lower premium with partial core features could result in a disaster as outlined. However one should also consider an individual health insurance plan for various reasons.
Let's see few points which you should think twice about while taking your employer's group Health Insurance.
Your insurer sets caps on group health plan
Soon, employees covered under group health insurance schemes could see their benefits shrink when their corporate policy comes up for renewal. Your employer's group health cover may have a co-payment option with a lower premium. Co-payment is generally 10-20% of the claim amount. Hence, large claims can hit your finances. If your employer's cover imposes a 20% co-payment, it means if the hospital bill is for Rs 2 lakh, you will have to pay Rs 40,000 from your pocket. From this cover, group covers could come with sub-limits on room rents and treatment of certain ailments.
Your company may exclude your parents from the health cover
Parental coverage has also been at the receiving end in the last two years. Many companies have either scrapped or scaled down the cover offered to employees' parents. Some companies extend cover to parents only if the employee agrees to fund the premium. Given the dynamics at play, it is clear that group covers fall short of employees' requirements. If this happens then anyways you need to cover your parents with an individual health insurance plan.
Group insurance premium set to cost 15%-20% more per year
Public sector insurers are on course to increase medical insurance premium. It is planning to raise annual costs by around 15% in the wake of higher costs and to stop giving discounts on group policies. Another key – and often controversial – cause of premium hikes is the claim-based loading clause. As the name suggests, the feature links your renewal premium to claims made in the previous year. Depending on the parameters listed in group policy contract, your premium on renewal goes up by a pre-fixed percentage in the event of claims.
Group policies offer limited sum assured
Most group insurance schemes offer limited sum assured, say 5-10 lakh which may not be adequate to take care of the medical expenses of employees and their families. This will become crucial in future because medical costs are growing at 12-18 per cent every year, so are health risks due to stress and overwork. But employers – who are keen to keep costs low in the slowdown – won't increase your insurance cover fast enough. This would surely mean that most employees won't be able to take care of their future hospital bills if they or their family members have to undergo treatment for any major illness.
No Bonus on your Claim Free Years
Since  group health insurance premium is decided on the previous years' claim ratio which would definitely go on higher side year on year basis regardless the fact of your individual free claim year. It implies that you would always be deprived from accumulated bonuses which are to be supposed to add with  your basic sum assured; even you had not claimed in previous years. Hence, your existing sum assured will be remained the same until you deliberately ask to your employer and in which you have also to pay more premium on any enhanced sum assured.
Group polices do not take care after retirement
By now it would be clear that you need health insurance more for your rainy days, when you cross 50 and reach your retirement age because health insurance is a long term policy and you should always take it considering it for next 20-30 yrs. Things like life time renewal and no co-pay in later years are sought after features these days. So even if your employer provides a good health cover right now, what about retirement? When you go to health insurance companies later to buy the plans, be sure that you will not get it or you will pay in gold!
How useful are group health covers?
I don't say, your employer health insurance cover is bad. All I am saying it apart from your company health insurance , you might also want to look at a separate policy, that's all. A group health policy has some advantages which is provided at a reasonable rate, no medical check-up and coverage of pre-existing illness is something everybody would love. This perfect blend is available for individuals mostly up to 40 years. However, from there on, it starts getting difficult to buy or even renew a health cover at a reasonable rate.
Make sure you have independent Health insurance cover
One should not be relaxed that he/she is covered by a group health policy. In the worst-case scenario, like downsizing, a person without individual health insurance policy can be exposed to risks till the time he is covered again. Buying a separate cover for self and family will help you prevent a dent in your savings.
The point is that an employer group health insurance cover is a cover which is linked with your employer and hence dependent on him, it's so tied with your company. You should aim at having at-least one independent health insurance plan in your life which you can cover and control, this should be in addition to your employers' group health insurance plan.
3391 Total Views
1 Views Today
The following two tabs change content below.
Suresh K Narula is founder and Principal Financial Planner at Prudent Financial Planners. He has earned the professional CERITIFIED FINANCIAL PLANNER and got registered with SEBI as Investment Advisor. He writes on personal and
financial planning
articles and got published in Dainik Bhaskar, Business Bhaskar and The Financial Planner's Guild, India. He is also a member of Financial Planner's Guild India ( An association of practicing SEBI registered Investment advisers) to create awareness about Financial Planning in general public, promote professional excellence and ensure high quality practice standards. Suresh received his an M.com from Himachal Pardesh University and an MFC from Punjab University, Chandigarh. He can be reached at info@prudentfp.in
Latest posts by Suresh Kumar Narula (see all)
Google+
Comments