We are somewhat coming at the end of financial year, when all salaried people have been receiving e-mail from their employers requesting them to submit their document for tax savings.  Now, all Insurance agents are ready to take charge and sell you anything and everything which can save your tax. That's exactly what many people want. At the last moment, they have no choice but to buy idiotic insurance product, so that they can "save tax".
Buyers Beware! From last many years agents and so-called "Financial Advisors" are using fancy words and tactics to lure investors and sell them inappropriate products like wrong ULIPS, assured or guarantee saving plan and Endowment Policies.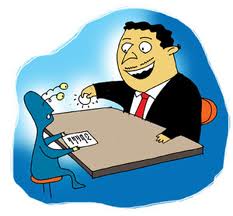 There are some common fancy words used by Insurance agents to sell their policies. Don't get in trap from these common tactics used by agents.
1. Premium can be stopped after the first 3 years

This is very common and effective statement used by agents to sell their policies specifically ULIPs plan.  Paying premium just for 3 years is wrong thing as ULIPs are long term products and carried with in- built high charges in the first 3 years.  It is not short term product and should not be used for just to save tax only. This is against the basic principle of any equity related product.
2. ULIPs offer guaranteed returns
Any Unit Linked product does not come with Guaranteed returns. Agents sometimes are used to say this to attract customers and moreover their Greed! A simple thumb rule is that anything beyond Bank FD returns will always carry some level of risk otherwise why will someone buy FD at all if they can get some guaranteed returns
.
3. I will give you 10% Cash back on premium paid
ULIPs and an endowment plans have very high commissions in the first year So agents lure customers by giving back some part of their commissions back, in this way they get more clients and more money overall. Don't fall in trap of this. Many agents also offer to pay your premiums for 1 yr so that you fall into the trap and take the policy.
Apart from this agents also stress on tax saving part which is not something which is unique to those products. We have tax savings on different products anyways. Because of high commissions, agents tend to go beyond limits and start unethical selling. Apart from this lot of sales pressure, pressure of meeting targets force agents to achieve the target by hook or crook.
It is the onus of us, that how we should handle them and demand logical explanation from every agent. It's time to identify such mis-selling techniques and beware with these malpractices.  Before buying any insurance products, spend more time to understand the same which can save your money in the long run.
So finally avoid the trap, ask questions, and doubt everything!!
3010 Total Views
1 Views Today
The following two tabs change content below.
Suresh K Narula is founder and Principal Financial Planner at Prudent Financial Planners. He has earned the professional CERITIFIED FINANCIAL PLANNER and got registered with SEBI as Investment Advisor. He writes on personal and
financial planning
articles and got published in Dainik Bhaskar, Business Bhaskar and The Financial Planner's Guild, India. He is also a member of Financial Planner's Guild India ( An association of practicing SEBI registered Investment advisers) to create awareness about Financial Planning in general public, promote professional excellence and ensure high quality practice standards. Suresh received his an M.com from Himachal Pardesh University and an MFC from Punjab University, Chandigarh. He can be reached at info@prudentfp.in
Latest posts by Suresh Kumar Narula (see all)
Google+
Comments