In an era of high healthcare inflation and corresponding medi-claim premium hikes, the maze of health insurance products for higher age groups or senior citizens are the most complex and vexing. Every ideal son is seeking the best health insurance products with high coverage at lower premium for his parents who had never taken the medical policy at their younger age. It is also an unfortunate us that every health insurance product has probably made for who are at younger age and in a good health. Moreover, it may even make difficult to buy medi-claim once a healthy person crosses 45 as insurers suppose to understand that it is a crucial age of human being in which medical issues start appearing and they enforce you to have undergone pre-medical test to underwrite the policy. On the flip side, until recently, the most employees in organized sector and their parents are covered for health insurance under corporate group policies by their employers but these policies have started now to restrict on claim benefits as 10% co-payment of eligible claims for their owns and 60% co-pay for their parents. Each insurer has set its own rules. Hence, there is added urgency to need and understand higher age group health insurance product and can be a challenge if you move either from your group medi-claim to retail policy or get a new standalone senior citizen policy.
Relying own Savings
Since most of parents have been missed the boat of taking insurance cover at a younger age, the question needs to be answered that can senior citizens live without medi-claim by relying on their own savings unless they have really deep pockets where a couple, of age 70-75 years paying Rs36,000 annual premium for a Rs3 lakh cover have to still keep Rs 6 lakh as bank deposits earmarked for medical contingency fund. But another question also crops up while keeping the extra fund for medical expenses that will they have enough money if there is a recurrence of claims worth Rs3 lakh every few years? Rationally, you should cover that part which cannot afford to lose. If you can afford to pay some part of the claim from your own pocket, there are products with lower premium which can suffice. You have to need strike a balance, between on your financial condition and getting hold of a cheap health insurance policy. Though buying individual medi-claim for parents is expensive, you can be easily added to family floaters and can take group medical products. Principally, it is better to have some mediclaim policy for your old people rather than not having any medi-claim. While the super rich do not need health insurance, those in the lower financial group can consider government schemes like Rashtriya Swasthya Bima Yojna (RSBY) and state schemes like Rajiv Gandhi Jeevandayee Arogya Yojana (RGJAY).
Regular and Senior Citizen Medi-claim Policy
As per new health insurance guidelines, regular medi-claim products are allowable anyone to enter up to the age of 65 where most products have no sub-limits and co-payment may be present for few products but less restrictive than senior citizen medi-claim products. Though, it is always advisable to buy regular medi-claim even after 65 due to cheaper than a senior citizen product, choose from various offerings of senior citizen medi-claim, if regular medi-claim cannot be purchased.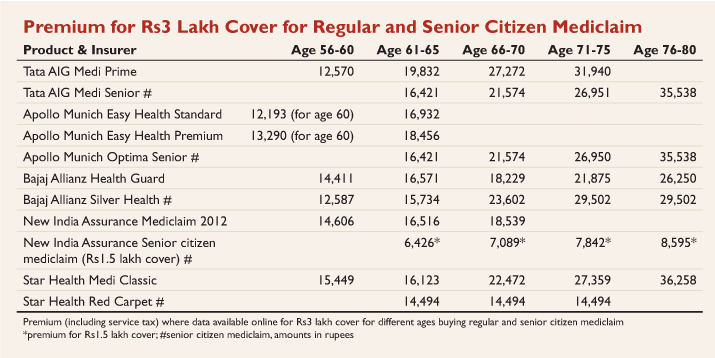 In the above table, you can see that Star Health Red carpet is seemed to be lower-cost senior citizen medical option, but at the cost of restrictions on benefits. There is 50% co-payment of eligible claims if you have PED. For others, there will be 30% co-pay. There are limits for the company's liability for various diseases. For example, a Rs3-lakh cover will pay only up to Rs1.6 lakh for cerebro-vascular accident, cardio-vascular disease, cancer, breakage of bones, renal complications and will pay up to Rs1.3 lakh for all other major surgeries. The good part is that regular mediclaim and senior citizen mediclaim both offer lifelong renewal. So, you have to educate yourself about the policy wordings, exclusion and co-sharing clauses, waiting periods of PED, sub-limits, claim filing, communication of TPA and so on. The insurance system is such that the consumer has to fend for himself. Taking one wrong step with your policy means your policy can become just worth the piece of paper.
Super Top-up Plans
In case you and your parents have already covered by your employer, but it is not enough to cope up huge claims in any uncertainty. You can get additional cover to buy another separate health insurance policy, but this may be too expensive. Worse, what if you have retail mediclaim but the insurer does not allow increase in the sum assured. In that situation, you can buy a super top-up plans which could provide additional cover to your existing cover economically. While buying top-up plans, you have to stick with only 'Super Top up Plan' and not confuse with other term 'Top-up Plan'. The difference between super top-up and top-up is that, in the case of a top-up policy, the expenses for a single treatment should be above the threshold limit; whereas in a super top-up, the total expenses in a year must be above the threshold level for the policy to be useful.
Thus, between a top-up and super top-up, the latter is more beneficial for customers. Examples of top-up products that you should avoid are: United India Insurance (Top-up medicare), Bajaj Allianz (Extra Care), Apollo Munich (Optima Plus), ICICI Lombard (Health Care Plus) and Star Health (Super Surplus). One advantage with Bajaj Allianz's top up policy, Extra care, is that it allows continuity for waiting periods under any of its indemnity policy irrespective of the sum insured, as a unique feature of the policy. L&T my health Medisure Super Top Up, United India's Super Top-Up and Apollo Munich's Optima Super are the only standalone super top-up policies available in the market as of now.
Specialized Medi-Claim Plans
If you have ailments like diabetes, or have already had a heart attack, the chances of being able to make the insurer underwrite a new policy are getting diminish it. If you think to buy a regular medi-claim policy, you have to wait for four years for your PED to be covered. At this juncture, there are some specialized medi-claim plans available in insurance market where you can be covered for these specific ailments with a shorter waiting period instead of the standard four years waiting. Star Health Diabetes Safe and Apollo Munich Energy Health Insurance plan are a couple of products covering those with diabetes but subject to that their premiums may be skyrocketed. However, if you already have a regular medi-claim policy, you should not go for these specialized plans, even if you were to develop diabetes or heart ailment after you purchase a policy as your regular medi-claim will cover all claims for these diseases.
Go for Enough Cover
Health insurance premium cost should be one of most important expenses to be considered for your retirement planning. Today, senior citizens should have health cover between Rs3 lakh and Rs5 lakh. With increasing cost for renal complications, cardio-vascular diseases, knee replacement, spine surgeries, etc, individuals are even stretching themselves to Rs10 lakh cover or more. Overcharging by hospitals and unnecessary tests when the patient is insured, add to the consumers' woes. Many senior citizens may feel that Rs1 lakh cover is enough, based on average claim size between Rs50,000 to Rs1 lakh; the catch is that the room rent limit is usually 1% of the sum insured. It means that for those with Rs1 lakh cover, the room rent should be Rs1,000, or less, to be able to get proper reimbursement of claim. It would be almost impossible to find a room at that cost in most hospitals in larger cities. Even if such rooms are available, they may not be free when you need to be admitted, in an emergency. If you were to be admitted in room that costs Rs2,000, most policies will pro-rate your entire claim to pay only 50% of the eligible amount.
Conclusion
Unfortunately, health insurance need and awareness are, often triggered when you get close to age 50 years. If you remain healthy till then, it means you have taken good care of yourself but you could not escape a bitter truth, there will be hospitalization, but when it will happen. When it does happen, it will burn a hole in your pocket. If you don't want to get struggle to choose senior citizen medi-claim plans in future like your parents, you should need to proactive in buying health insurance during your working life so that your post-retirement health life could be secure.
5593 Total Views
1 Views Today
The following two tabs change content below.
Suresh K Narula is founder and Principal Financial Planner at Prudent Financial Planners. He has earned the professional CERITIFIED FINANCIAL PLANNER and got registered with SEBI as Investment Advisor. He writes on personal and
financial planning
articles and got published in Dainik Bhaskar, Business Bhaskar and The Financial Planner's Guild, India. He is also a member of Financial Planner's Guild India ( An association of practicing SEBI registered Investment advisers) to create awareness about Financial Planning in general public, promote professional excellence and ensure high quality practice standards. Suresh received his an M.com from Himachal Pardesh University and an MFC from Punjab University, Chandigarh. He can be reached at info@prudentfp.in
Latest posts by Suresh Kumar Narula (see all)
Google+
Comments