A pilgrimage to the Holy Shrine of Shri Mata Vaishno Devi Ji is considered to be one of the very popular religious places of Hindus in North India of our times. As the popular slogan in the local folklore beautifully expresses it- Maan Aap Bulandi –   which means that "Maa Call herself".  It is also a matter of experience by almost all those who visit the Holy Shrine that upon the Call of Mata, a person needs to just take one step and leave the rest to Her and his journey gets completed with Her divine blessings. Simultaneously, it is also believed that unless there is the call of Mata or "Bulawa", no one can visit the Shrine or have Her blessings, howsoever high or mighty one may be. Even I believe so, we visited that shrine only three times from my childhood but could manage this time to visit only after a long time as just one and half decades, almost the gap of 16 years milestone in our life. In fact it's not time, we should blame ourseleves as staying near around Chandigarh for past 25 years we never visited 'Manali' and even other holy shrine of "Naina Devi and Mata Jawalaji''. We prone to think some time we are lazy and careless enough to not seriously take places and people "near" to us.
About Shri Mata Vaishno Devi Temple
It is believed that Shri Mata Vaishno Devi Ji resides in a Holy Cave located in the folds of the three peaked mountain named Trikuta (pronounced as Trikoot).  It is also generally believed that the Pandavs were the first to build the temples at Kol Kandoli and Bhawan in reverence and gratitude for the Mother Goddess. On a mountain, just adjacent to the Trikuta Mountain and overlooking the Holy Cave are five stone structures, which are believed to be the rock symbols of the five Pandavs. The Holy Cave attracts millions of devotees every year. In fact, the number of Yatris visiting the Holy Shrine annually now exceeds one crore. This is due to the unflinching faith of the devotees who throng the Shrine from all parts of India and abroad. The Holy Cave of the Mother is situated at an altitude of 5200 ft. The Yatris have to undertake a trek of nearly 14 km from the base camp at Katra. At the culmination of their pilgrimage, the pilgrimages (yatries) are blessed with the Darshans of the Mother Goddess inside the Sanctum Sanctorum- the Holy Cave. These Darshans are in the shape of three natural rock formations called the Pindies. There are no statues or idols inside the Cave. Darshans are open round the clock throughout the year.
Planning for Trip
One day, at night I was randomly checking some tourist hill destination within 500 Km. around Himachal Pradesh. I found some exciting descriptions about Patnitop in Jammu & Kashmir and I also decided to visit holy shrine of Maa Vaishno Devi. Due to heavy rush in summer vacation, I could able to get  reservation only in train for departure to Katra but could not able to book in train for arrival to my native place, Chandigarh as all trains were fully booked and showing the status of "Waiting list" in the month of June itself. I frankly accepting that I cannot travel more than 6 hours by Bus. Therefore, I tried to postpone the journey but my family was not agreeing to me and then, I explored the option of air travel for arriving to Chandigarh and I could able to book my flight tickets from Jammu to Chandigarh in my limited budget in such short time thanks to Spice Jet. I then got all travelling tickets booked and specially Yatra Parchi and even the hotel in advance through MakeMyTrip online bookings.
Day wise Itinerary
Day 1 Train Journey
As this is going to be our first day of the trip, we reached on Chandigarh Railway Station at around 07:10 PM and our train was scheduled at 08:15 PM and reached in time at platform where we searched for our coach and boarded on train. We got all five births of side lower and upper birth adjoining with each other. Our co-passengers were not yet present. We bought two bottle of water and few paper soaps. There was no rush inside train so we dined before train start. As the train chugged to Katra from Chandigarh, we were started to enjoy journey by cracking jokes and gossiping about all hearsay. Around 11'o clock, most of passengers went to their birth and slept except few who were playing cards, waiting list ticket holders. My father and I were not able to sleep well and I then just started to browse the net and suddenly we were feeling suffocation in coach and felt being uncomfortable. Then, we started stroll into the coach and at paused stations. On the next early in the morning at 4:00AM, my daughter woke me up and asked to down my birth; I was tired as I slept just two hours before. We heard some noise and surprised to see the train was in Katra Railway Station.  And, it was raining outside, the time was around 5 o'clock. When we got down from the train, we stunned to see the cool and world class view of Karta Railway Station; we were feeling that we supposed to land at Katra International Airport. We found ourselves at the ground Floor of Katra railway station has very much cleaned and shined the floor tiles. The station has also lifts, VIP lounge, and a fully air-conditioned hotel with a shopping lounge, multi-cuisine restaurant, cloak room, waiting hall, a book stall, tea stall, toilet blocks, and catering area. The first floor accommodates 8 retiring rooms and a cafeteria. A huge parking place also constructed to accommodate cars and passenger buses. We sat on the bench at platform and adjusted our clothes and luggage. We used escalators to check out the station.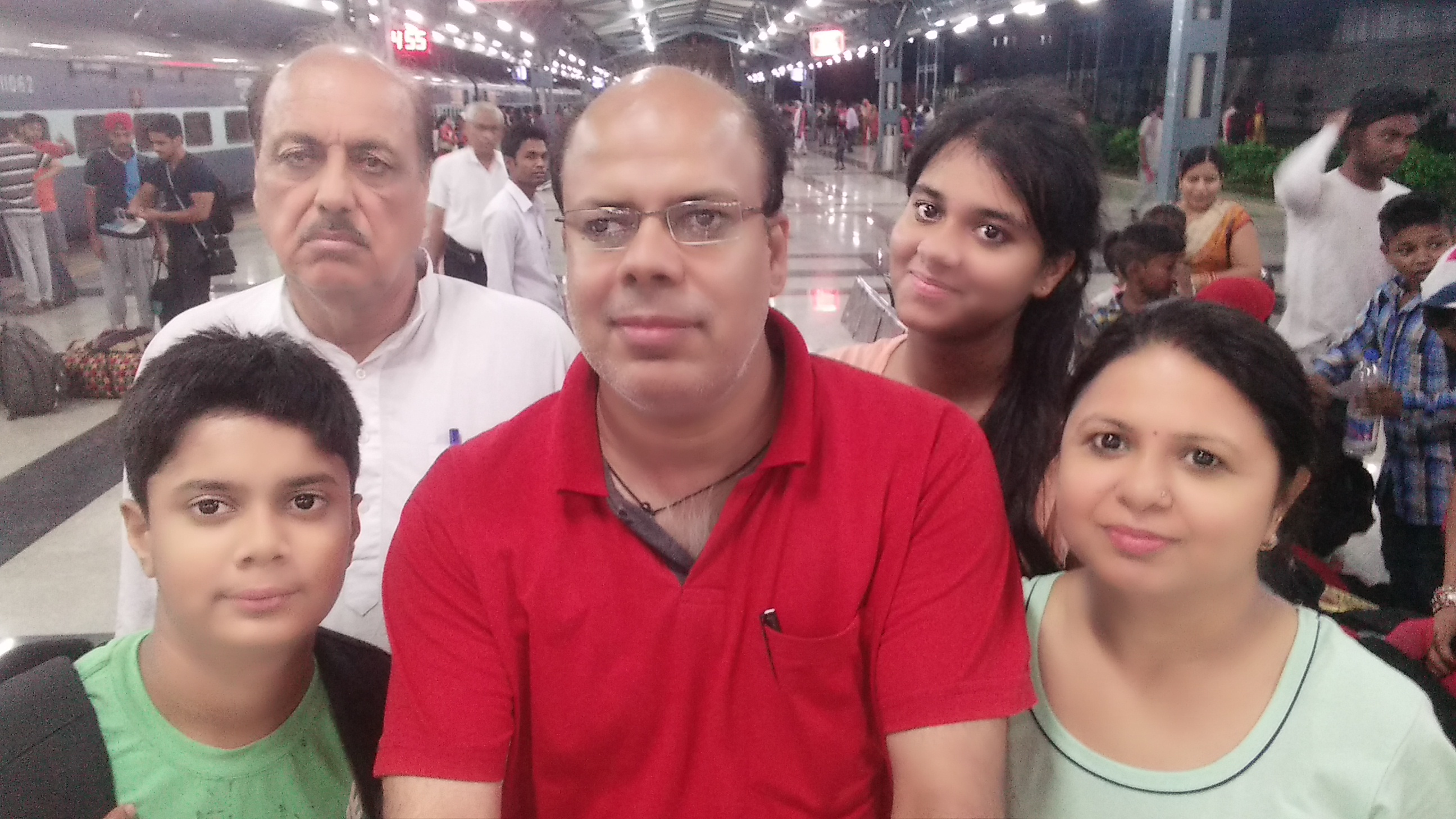 We did not waste any single minute and went out from station, it was raining heavily and auto rickshaw drivers tried to convince us to hire rickshaw and finally we reached our booked hotel. You will be very disappointed on getting the reception since you enter in Jammu as far as Cell Phone Networks are not worked and dead about communications as no network operator seems to be caring about his prepaid customers in roaming.  Somehow, we were lucky as Wifi services were available in the hotel itself and could be able to connect through WhatsApp audio and video calling and chatting.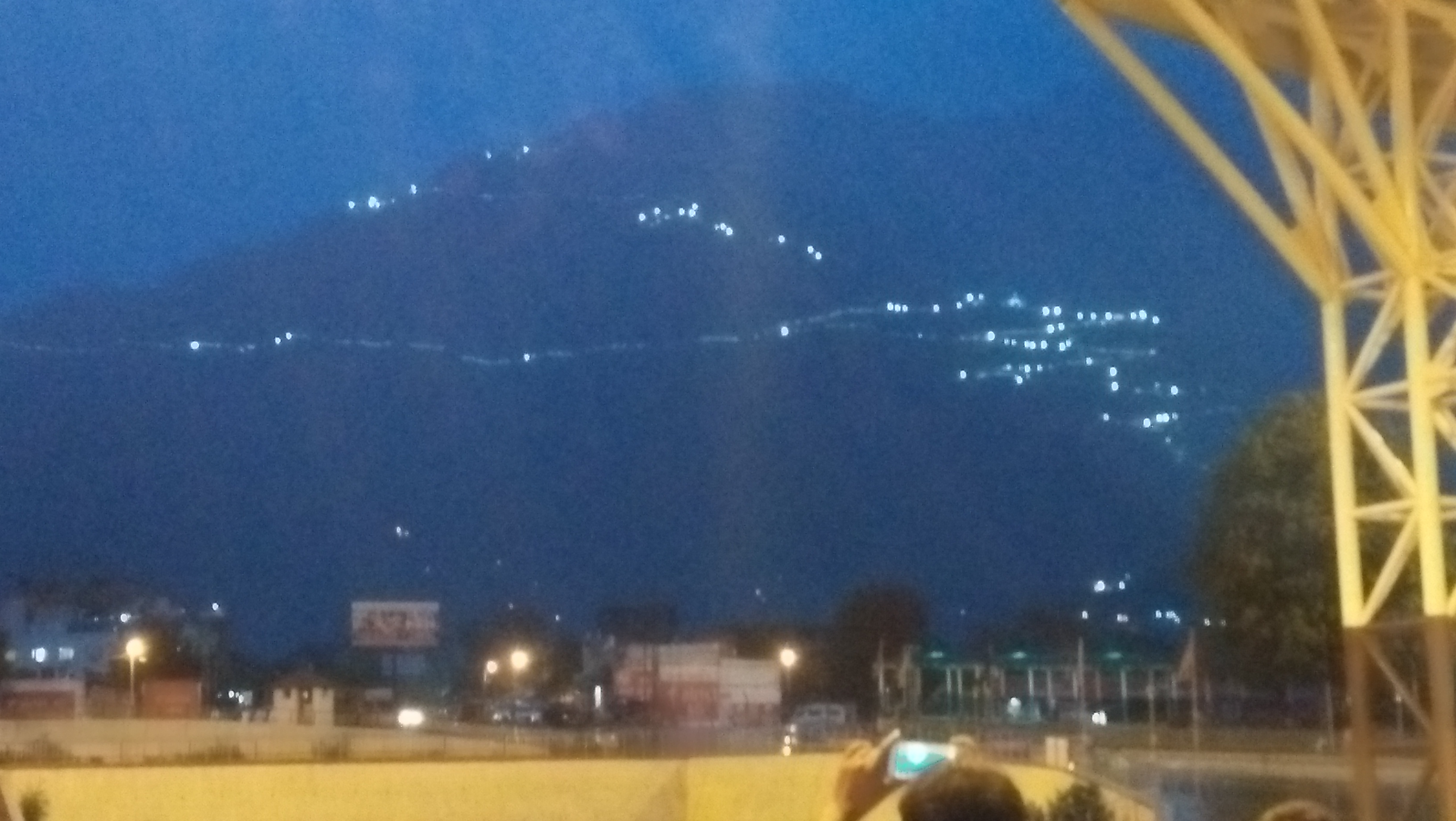 Day2 Trekking to Mata Vaishnoo Devi Temple
Although the raining was running heavily, yet around 12' o clock we decided to start trekking towards to Mata Vaishnoo Devi Temple.  Since I was told by my cousin that there would be a huge crowd, you might wait for 3-4 hrs  in queue to get Bhawan Yatra parchi, which is valid for next 6 hrs to reach at main entrance, we had already booked Yatra Parchi online. Then, we marched toward Banganga where the trekking journey starts towards the way of Bhawan. We couldn't believe that we were in door of heaven. We were so excited to move up irrespective of rain. At Main entrance, few shops were selling Raincoat (a full size raincoat made of a lower quality polythin) for Rs. 15 only but we did not buy there. After having breakfast/Lunch we purchased same raincoat at Rs. 20/ per piece.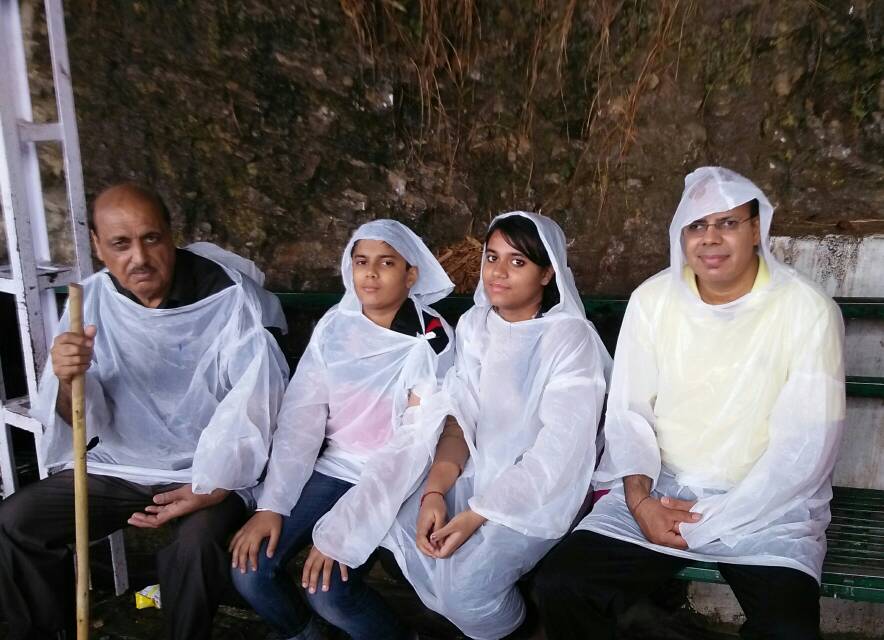 Despite continuous heavy raining, we had to start our journey towards Bhawan with more energy and excitement, weather was pleasant, air was blowing slowly. We had to cover around 14 Km of journey. Whole place was very calm and clean. There were many temples, small shops and shelters on the way to Bhawan. We decided not to stop until we cover at least 2 km distance but it was very difficult to move up, every kilometer seemed like 2 miles. People say "It is better to use stairs instead of footpaths(ramping) while moving fast upward" but we felt uncomfortable to use upstairs because it was burning more energy  and made hectic too. While using footpaths, with a little rest in between, enough washrooms and tea-coffee stalls and shades in way, it was sure not without arrangement trip from Government side. Only irritating thing was Pithus. They seem to have no control over them and we were only to tolerate them since the start. Street was clean and there were many shelters, public toilets and Coffee shop. Only thing that we did not like horses and donkeys were also using same street and they might hit anyone anytime, entire way was being smelled dung and rain making it worse.  They were crossing you from behind any time, no matter how narrow place it might be or how tired you might be, but you were asked to run as Pithus can't make it slowly or managed.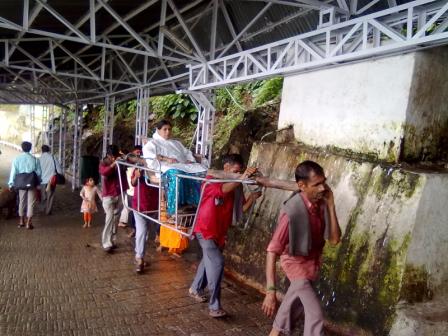 We were not able to take snap many pictures due to continuous heavy raining. After half the way, we reached at a stage, where there are two ways, one to right and other to left. Left one bypasses visit to ArdhKunwari and other way direct to Bhawan, which is so called Himkoti Rasta. We chosen right to us as there was a way direct to Bhawan. We took break after every mile and recovered our lost energy with coffee, tea or cold drinks. There are many dustbins on the way. Instead of using dustbin many people were throwing garbage in corners. Please use dustbins and make your Mata's Bhawan clear, clean and Eco-friendly.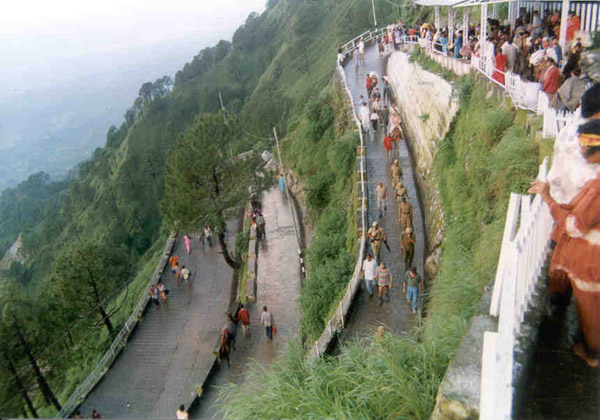 It took around 4-5 hrs for us to reach Vaishno Devi Temple around 5'0 clock. We kept our valuable in free lockers available. Like every temple in India there were lot of Monkey present near around temple, but they were not creating any problem for the visitors. Temple was managed very well – no Pujari (Priest) was pushing any one for special or different type of Pooja. Long queue was managed very professionally. There was not so crowd as expected due to heavy rain.  We have already been taking auto-bath during the journey while continuous rain. We were not feeling well that time and had temperature too. After changing new clothes, we stored our all bags, mobile phones, wallet and belt in cloak room. There are many cloak rooms available at Bhawan where we can keep our belongings lock and keep key with us. After that, we bought "prashad" for Bhawan darshan. There was no crowd so we got much time for Darshan of "Pindies"  in sacred cave. We had a great darshan of Maa.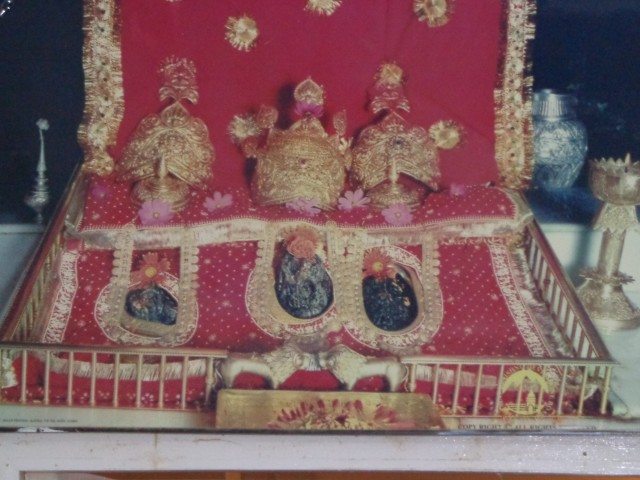 When we came out, we went to cloak room and collected our bags back, we were so tired so we wished to rest but my family decided to reach at hotel as soon as possible. Then after having some refreshments, we headed towards Bhaironath temple. Bhaironath Temple is around 2 kms from Main Shrine or Bhawan and believe me we were completely exhausted climbing this one. We didn't feel much while climbing Bhawan. But climbing Bhairo was something different and very much tiring and drenching. Rain also again started in between and  We wore a temporary use and throw raincoat bought for just Rs. 20. Here we come at Bhaironath Temple. Its legend is written on the huge Signboard here. It is believed that Darshan of Maa Vaishno devi Shrine is incomplete and void unless you visit Bhaironath Temple for his darshan. At the top most point where there are breath taking views, the place was completely covered with Fog. No views but once gain beautiful and pleasant climate. Nice Feeling when one stands here and relaxes.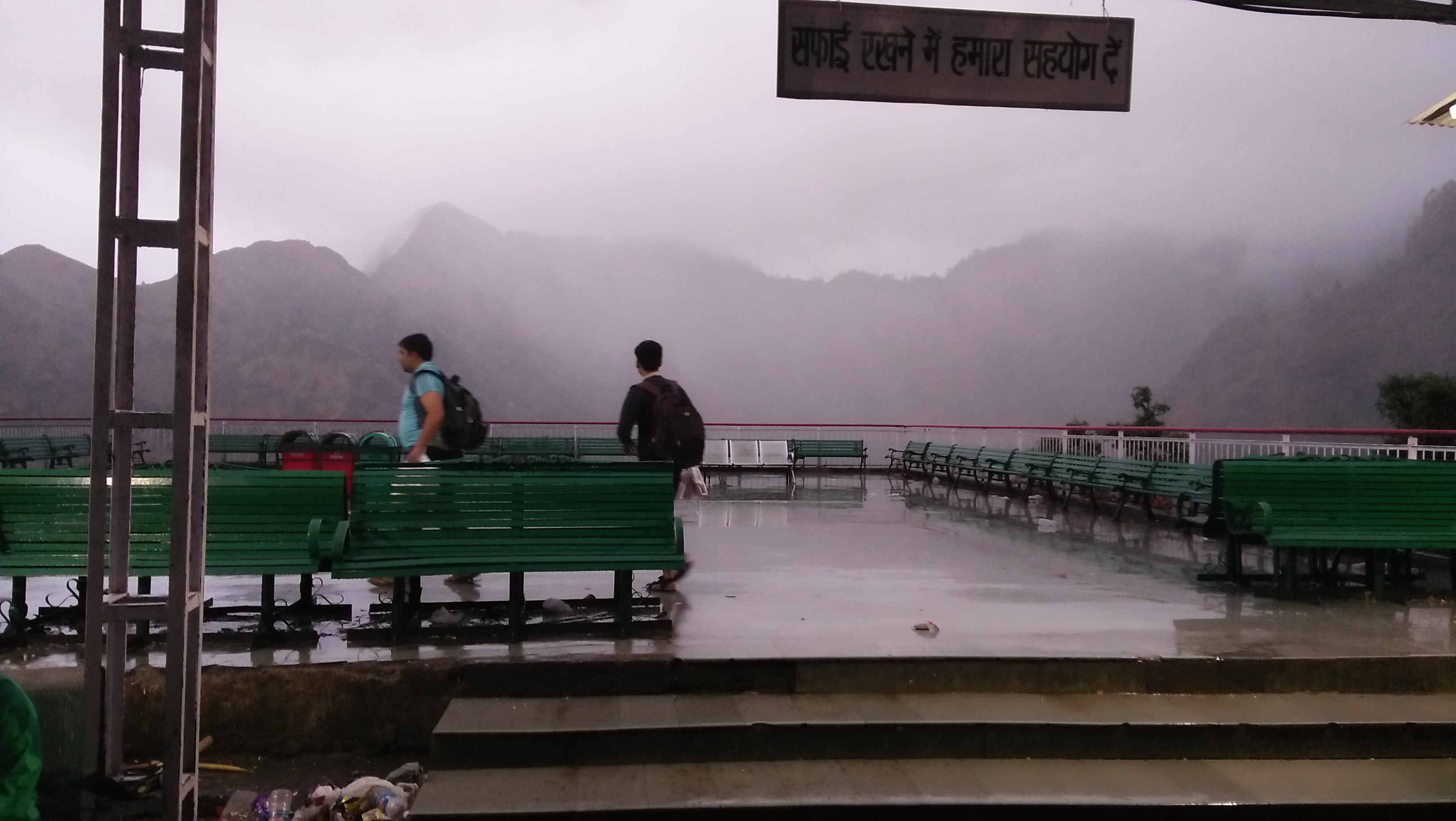 Then we started to Trek down via Hathi Matha route. We were climbing down via stairs as it was much faster . Here we got some views of Katra city from Top. It was still raining, which continued till we returned back by day next. That made it tougher. But, it was taking less effort to coming down, we just had to maintain the balance of our body, and rest of the work was being done by the gravity. We had some monkeys, langoors, deers on our way. While coming back we realized why people say you should start yatra (walking) in the evening.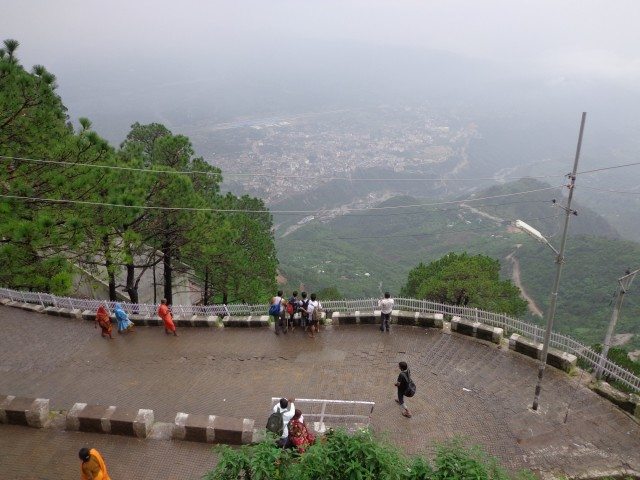 Lot of people was coming in the groups chanting "Jai Mata Di". Under light whole route was looking so beautiful and the atmosphere was very spectacular. Around 11 O'clock, we reached at sanjhi chhat where you have a facility to visit Maa Vaishno Devi Bhawan by helicopter as well. Choppers stop here and Devotees have to cover rest of the journey on-foot or they may hire horse.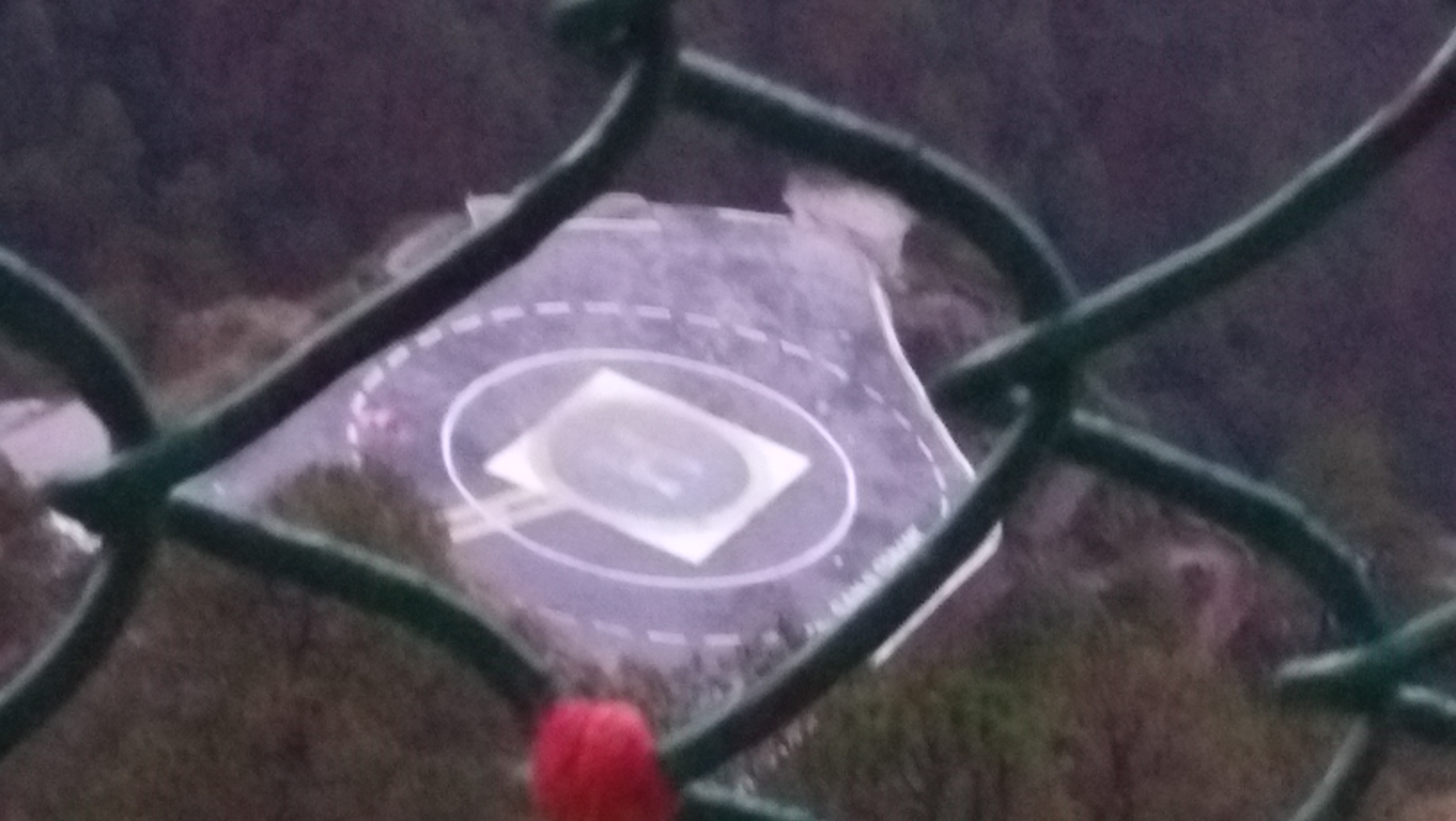 Around 10'clock, we saw big buildings and crowd of people. It was temple of Ardhkwari. We had been reached at Ardhkwari back . We did not have much time so we decided to visit Maa Ardhkwari mandir without Darshan of  Garbha Goofa.  It is believed that Mata Vaishno Devi stayed here in a cave ( known as Garbha Joon ) for nine months and worshipped Lord Shiva. When Bhairo nath entered the cave, the Goddess made a new opening with her trident and ran away.  At Ardhkwari, we ate delicious rajma and curry chawals which were cooked even without onion and garlic.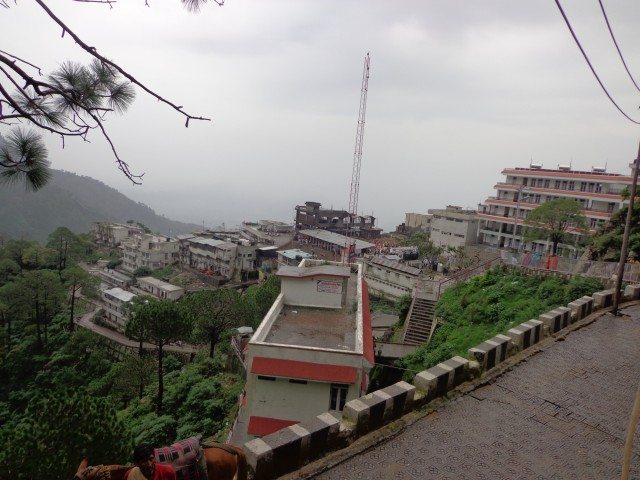 Then, there was minor trouble in midway, which delayed the journey for an hour more. Suddenly, my wife disappeared from us. She might be lost the way. Solely, she had been stayed unknowingly far away from us. We got worry very much about her and started to search her anguishly. Then we stranded to wait her on the middle of way here and there but could not able to find her in either way. We deeply depressed about her and decided unanimously to move down and could not stop ourselves until reach in BanGanga where we can make a public announcement.  When we reached to Banganga, we astonished to see her as she bubbled up to us that she was waiting for us about an hour and even she made a public announcement by several times. Hence, we all got emotional and filled up our eyes and hugged with each other. and once again thanks to Maa Vaishno Devi for our destiny. Finally, we reached in our hotel at 2:30AM.
Day3 Visit to Patnitop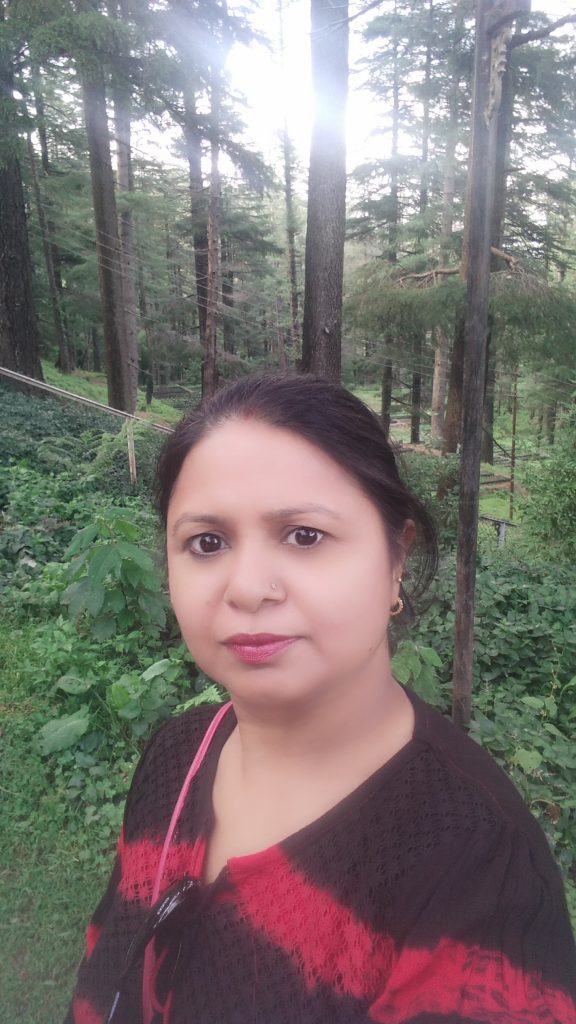 Patnitop, a popular hilltop tourist location in Udhampur district in Jammu and Kashmir state of India on National Highway 1A is just far away 80 Km from Katra.  After taking breakfast, we started from Katra (in a reserved cab), morning on 22nd June, 2017 and meandering through the beautiful and majestic Himalayan landscapes, pine forests and passing through the famous Kud Sweet Market at the foothills & the Natha Top, we reached at the top of hill station called as Patnitop. It is appeared as the big garden set amongst mountains and forest. Its charm lied in the empty yet beaten trekking tracks. The place has nothing to offer except that it liberates the being of all its worries and burdens. Here too, undoubtedly, the landscape was beautiful and beyond words to describe. Then shopping time unleashed! We bought Rs. 10,000/- buying local handmade blankets, bed sheets, the Pashmina shawls, pillow covers etc, but each of them was so beautiful and worth every rupee! Finally we moved around enjoying random sceneries and left for the Naag Temple, a local temple dedicated to Lord Shiva. After a long photo shoot there, we had enjoyed with some hot snacks, like the local spice kulcha (a must try), maggi and anything that would warm up our body. In late evening, we started off to our hotel in Katra and we did some shopping at Katra market and bought local dry fruits such as  walnuts, almonds, dry apples, dry mangoes etc. Finally, all good things have to end (that too end quickly !!)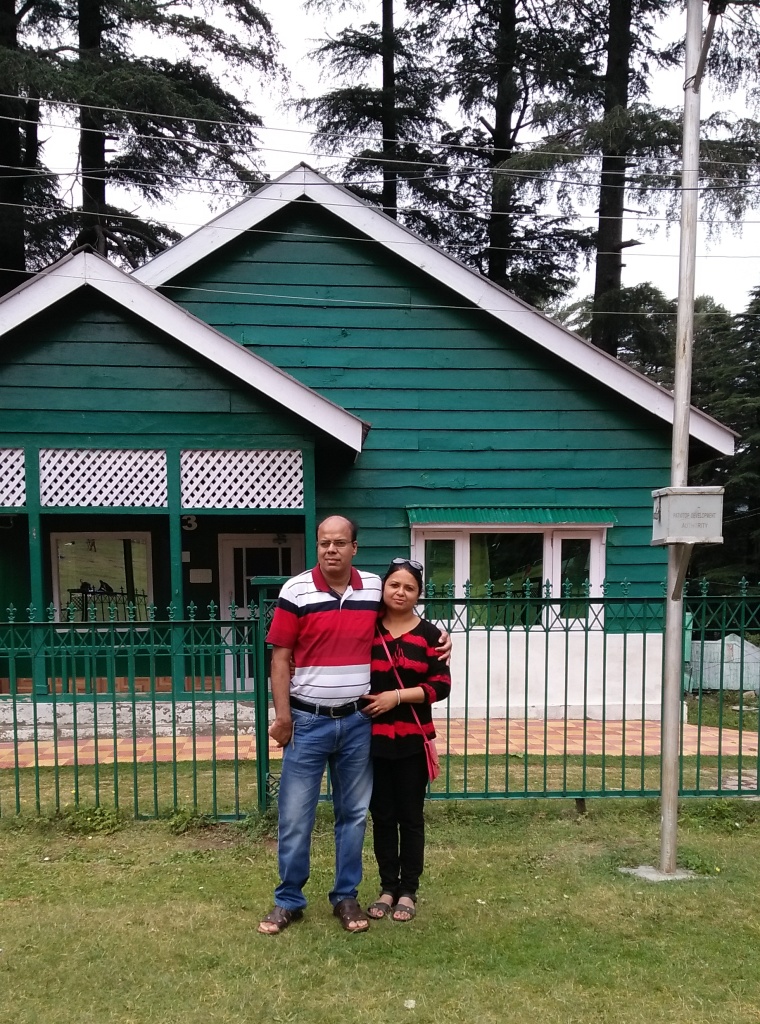 The next day, we headed back to Jammu Airport via Raghunath Mandir, to catch our flight to Chandigarh; all rejuvenated after the days travel and carrying bags full of sheer divine embroidery.
While coming back we were almost dragging our legs but we were very much satisfied that one of our long waiting wish got fulfilled on such a short notice. People in north India use to say when Devi Mata will call you, you will always find the way to reach her, and it seems very true for us. Jai Mata Di…
13595 Total Views
10 Views Today
The following two tabs change content below.
Suresh K Narula is founder and Principal Financial Planner at Prudent Financial Planners. He has earned the professional CERITIFIED FINANCIAL PLANNER and got registered with SEBI as Investment Advisor. He writes on personal and
financial planning
articles and got published in Dainik Bhaskar, Business Bhaskar and The Financial Planner's Guild, India. He is also a member of Financial Planner's Guild India ( An association of practicing SEBI registered Investment advisers) to create awareness about Financial Planning in general public, promote professional excellence and ensure high quality practice standards. Suresh received his an M.com from Himachal Pardesh University and an MFC from Punjab University, Chandigarh. He can be reached at info@prudentfp.in
Latest posts by Suresh Kumar Narula (see all)
Google+
Comments