Hello, my name is Suresh Kumar Narula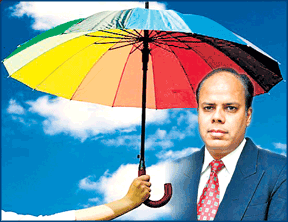 I am a financial planner. That's right. Just like you have had a family doctor for caring your physical health problems, as I am for resolving your financial problems.
I have a loving wife with two beautiful children ("Love you Jyoti, Ayushi and Anshit").
I live in Panchkula. That's a well-planned city, just 10 kms. away from city beautiful Chandigarh & is an important part of the Tricity. It is the only hill station in Haryana, also lies in this district, on the offshoots of Shivalik range of the Himalayas.
I love it. I love the culture. I love the people. I love "who we are".
Having extensive financial knowledge, I care about people and my profession.
I am characterized as ability to think in a logical way, analytical way and trustworthy best describe me.
That kind of exceptional qualities, I help to people so that they could actually make money for achieving their financial dreams; even more could do important things in life. But still…
Most people don't seem to understand what I do.
They compare me with a stockbroker, mutual fund distributor, or even an insurance agent. The worst part is that they don't know the difference between a product seller and me.
And I am getting tired of it.
In financial market, plethora of financial products is being sold everywhere but no one caring about the real needs have people. I want to change that situation by doing financial planning and only the necessary financial products offer, based on what they want in their lives.
After 17 years of working in the industry, in the corporate world, I've finally decided to do something about it, which grown me from being an accountant to a financial planner for steady income people, mostly salaried.
I want to educate people everything I know about making our profession matter.
I started sureshcfp.com to make financial literate everyone how to get people to see the real value of financial planning where I regularly update in various publications on Finance & related subjects. I have written hundreds of articles on various aspects of Finance and related subjects for this blogger site.
Then, I launched my official site prudentfp.in, how to make people feel engaged with my service; and how to make people feel I care. Care about YOU and YOUR GOALS.
I think I have earned my position. Because, probably just like you, I studied long and hard. But hey, I now have my Master degrees in Commerce and Finance and Control. Actually, I call myself Financial Planner, M.Com, MFC.
Since the world is overflowing with rules and compliance, pumping the industry full of regulation to erase the bad advisors; SEBI has laid down the regulation intended to clear the confusion among investors about the role of wealth managers, private bankers, portfolio managers, agents, distributors and the likes by restricting the unilateral use of the term "Investment Advisors."
To be an investment advisor, one has to choose between selling a product or advice, not both. Finally, I decided to pursue fee-only practice. Thus, I decided to register with SEBI.
That's something to be proud of. I pride myself that I have got registered with SEBI as Investment Advisor.
And that's my problem. I'm proud of what I do, but it seems like no one understands what I do.
And when no one understands what I do, why on earth would they want to hire me?
And that's why people go to these other "advisors". Or even "chartered accountants".
And that's why you came here too, right?
Because you want to transform your financial life and you don't want to be financially messed anymore.
You may be financially messed up, not because you lack the smarts, experience, or expertise, but because the only thing holding you back is a lack of understanding about how to make financial planning meaningful.
That's why, I believe that first step not making investments but planning for everything and then executing it. I will make you understand reasoning behind every suggestion I give you. I will make sure that you agree and understand everything, so that in future you can take similar decisions yourself.
My goal is not limited to Insurance Planning or Investment Planning. In fact I am trying to make your overall Financial Life better and paving financial path for you, of which you can start walking. Your overall Financial Life is a made up of different components Insurance Planning, Investment and Retirement planning, Tax advisory etc. I will thrive in take care of all these things.
All you have to do is subscribe, and let me teach you what I know. Fill out the form at the top of the homepage, and I'll email you once in a while with new tips about how to make your financial planning service matter.
You'll also able to download my ebook.
Oh, and by the way, it's totally free.
Just type in your first name and best email, and I'll talk to you soon.
Let's make simplify our financial life and better!
Suresh Kumar Narula
PS: My interview on Cafemutual 
5070 Total Views
1 Views Today
The following two tabs change content below.
Suresh K Narula is founder and Principal Financial Planner at Prudent Financial Planners. He has earned the professional CERITIFIED FINANCIAL PLANNER and got registered with SEBI as Investment Advisor. He writes on personal and financial planning articles and got published in Dainik Bhaskar, Business Bhaskar and The Financial Planner's Guild, India. He is also a member of Financial Planner's Guild India ( An association of practicing SEBI registered Investment advisers) to create awareness about Financial Planning in general public, promote professional excellence and ensure high quality practice standards. Suresh received his an M.com from Himachal Pardesh University and an MFC from Punjab University, Chandigarh. He can be reached at info@prudentfp.in
Latest posts by Suresh Kumar Narula (see all)
Google+